cPanel is an online Linux-based graphical user interface (GUI) designed to simplify website and server administration. You may publish websites, manage domains, organise online files, and create email accounts with cPanel.
In the United States, cPanel is one of the most used control panels. Numerous web hosting companies include cPanel with their hosting packages.
cPanel features two interfaces: the cPanel user interface and the Web Host Manager server management interface (WHM). This combination enables customers to manage their websites and provides hosting providers with server management capabilities.
Is cPanel Free?
It costs money because cPanel is a third-party application. However, the majority of hosting providers feature cPanel at no additional cost. Some providers offer cPanel for free for the first year, but then charge a fee for following years.
In 2019, cPanel increased its rates, prompting many web hosting providers to contemplate switching to alternative website management panels.
Is cPanel Private?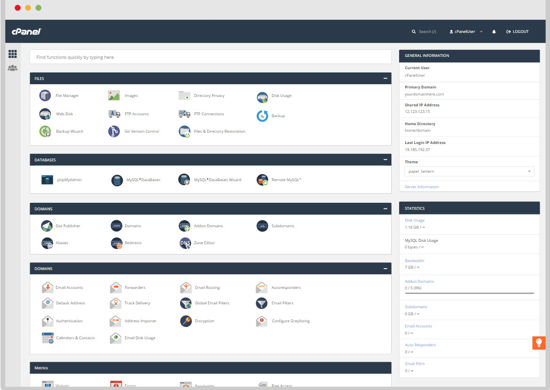 Your cPanel account is really private. If you are the proprietor of a website, you must safeguard your account and password. This is essential for protecting your website's data and settings.
Also Read: Scientists Have Created a Liquid-Melting Robot that Can Escape a Cage.
How to Login to cPanel
You can access cPanel using the address bar of your web browser. Enter your website's URL, followed by a colon and 2083. This is how you would access your cPanel: https://yoursite.com:2083.
You can also access your cPanel by appending /cpanel to your website's URL. When using this approach to access your cPanel, the URL would seem as follows: https://yoursite.com/cpanel.
If you have a brand-new website and the DNS records have not yet propagated to the server, you can instead use the IP address. Accessing cPanel via IP would seem as follows: https://10.10.10.20:2083.
Select your language from the drop-down menu at the bottom of the cPanel login screen if you require the interface to appear in a different language.
You may find it useful to bookmark your cPanel page before logging in, so you can easily return to it later.
On the cPanel login screen, enter your username and password before clicking the Log In button. You will then be routed to your website's control panel, where you can access all the options.
Best cPanel Host Options
It is essential to choose the best cPanel host for your WordPress website. Carefully choose a web host based on their dependability, performance, customer service, features, and pricing.
The best web hosts using cPanel are:
Bluehost is one of the largest and highest-rated cPanel hosting providers. Bluehost is one of the oldest and most reputable web hosting businesses. They offer automatic WordPress installation, a free domain and SSL certificate, and round-the-clock customer service. They are explicitly recommended by WordPress as a hosting provider.
HostGator hosts millions of domains using cPanel. It is one of the industry's most prominent web hosting services. HostGator offers WordPress installations with a single click, 99.9% uptime, and 24/7 customer service. They are one of the top web hosting companies for businesses, in our opinion.
GreenGeeks is now a well-known web host that employs cPanel. GreenGeeks also offers WordPress installations with a single click, free site migration, a free CDN, and excellent customer service. GreenGeeks is eco-friendly and hosts over half a million websites.
Also Read: Sony May Finally Be Prepared To Concentrate On PS5 Games (And Ditch PS4)
How to Install WordPress on cPanel?
We have compiled a comprehensive, step-by-step tutorial for installing WordPress with cPanel on the most popular web hosting providers. This post will demonstrate how to instal WordPress using 1-click scripts such as Fantastico, Quickinstall, and Softaculous.
We will also teach to intermediate WordPress users how to use FTP to instal WordPress. Finally, we will demonstrate how to instal WordPress on a local computer for experienced users.
What is Managed WordPress Hosting?
Managed WordPress Hosting is a web hosting environment designed exclusively for WordPress sites. Managed WordPress hosting offers enhanced performance, security, and customer service.
Using managed hosting, WordPress websites load quicker, are automatically updated, have daily backups, and are supported by WordPress specialists. Managed WordPress hosting is more expensive because the host manages the website's environment.
Also Read: Teens Are Paid by Discord to Offer Each Other Compliments.
Should You Use a Managed WordPress Platform?
The answer is straightforward if you are looking for the finest hosting package or wondering if managed WordPress hosting is right for you.
If you are contemplating establishing a blog or a newbie, you do not require managed WordPress hosting.
Managed WordPress hosting is an excellent option for small to medium-sized enterprises and blogs with a substantial number of visitors.
Those that gain the most from a managed WordPress plan are businesses and prominent blogs with high traffic. Because businesses and popular websites must prioritise customer service and content, they require a streamlined, high-performing website.
Where is cPanel in Managed WordPress Hosting?
A managed WordPress account lacks cPanel since the web host handles fundamental website hosting responsibilities.
Managed WordPress hosting entails the installation of WordPress, management of server-level caching, creation of backups, and management of WordPress core updates.
Instead of the proprietary cPanel, managed hosting businesses like WP Engine and Liquid Web employ their own control panels.
Many web server companies are abandoning cPanel in favour of a customised user interface in order to minimise costs and deliver a more unified customer experience.