What Is "your Connection Is Not Private" Alert?
Modern browsers not only deliver a seamless web surfing experience with minimal latency and maximum ease, but they also steer users away from dangerous websites. Behind the facade of user-friendly interfaces and impressive functionality is a thick layer of security. There is no simple access to pages that raise red lights according to the defensive algorithms incorporated into Google Chrome and Safari for Mac. When attempting to visit one of these Internet locations, users receive the error message "Your connection is not private."
Almost every user has encountered this warning numerous times in the previous few years, since it has become an increasingly typical occurrence during online activity. What triggers this alert? Is it always a warning of genuine danger? How to circumvent it if the user understands the risk and knows for certain that the resource in question is safe? Let's delve further into this topic.
First things first, the warning "Your connection is not private" in Chrome and "This Connection Is Not Private" in Safari (yes, there is a variation in wording) is rarely a false positive. It will not appear unless the browser's security checks detect a potentially suspect discrepancy, most likely a connection protocol issue. For instance, if the page interacts with its visitors using unencrypted HTTP rather than encrypted HTTPS, all data transmitted between the endpoint and server can be readily abused if a third party intercepts it. Consider it a shortcut to obtaining your passwords, credit card information, messages, and any other information placed into a website's online form. Obviously, it is best to avoid websites whose owners do not take the privacy of their audience seriously.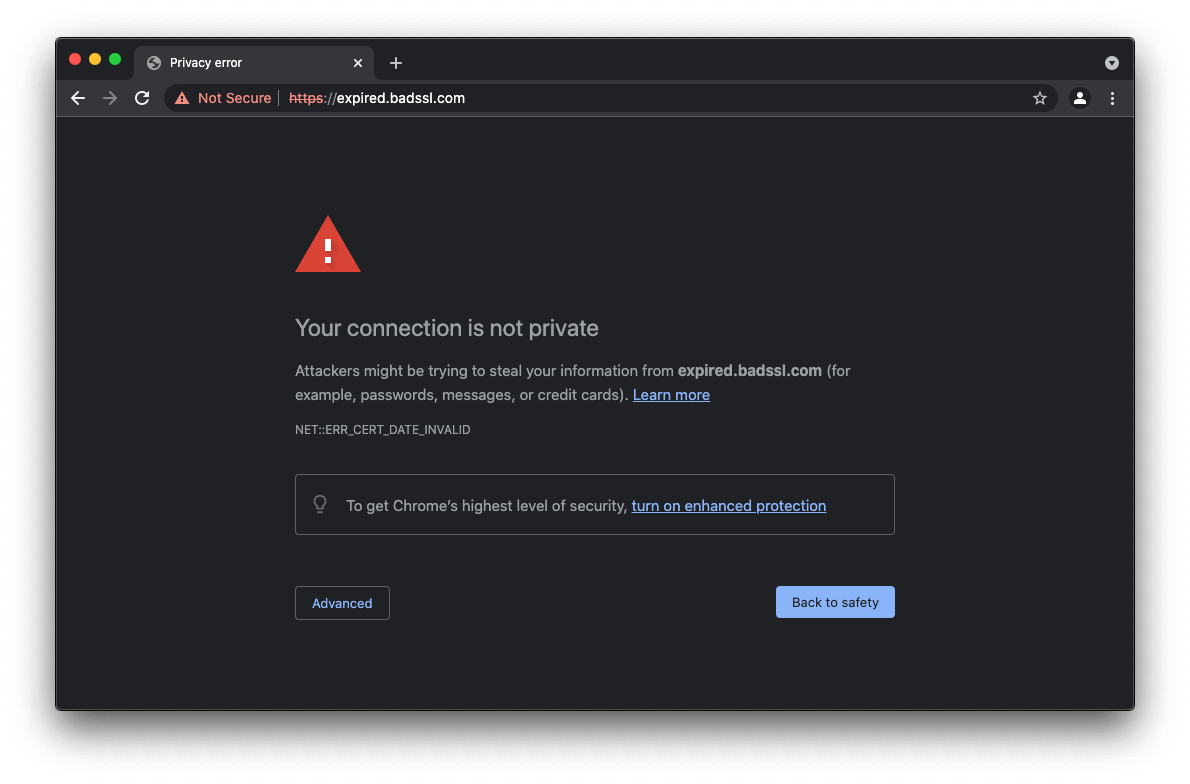 Another typical circumstance boils down to a digital certificate issue. Even though a website has HTTPS in front of its domain name, it could be utilising an untrusted or expired certificate. This undesirable circumstance could serve as a springboard for tampering with sensitive visitor data. In addition, if antivirus software with online protection functions is active on a Mac, it may interfere with Chrome and Safari's privacy monitoring operations. Since the browser cannot verify that everything is secure in this case, it informs the user to a possible security risk by displaying the "Your connection is not private" page. In essence, this is a classic example of overlapping defences that result in a conflict between several applications, so decreasing the desired effect.
An further potential root cause for these alerts is incredibly trivial. It is due to a discrepancy between the Mac's system clock and the website's date and time settings. Given that the device's time is meant to be automatically retrieved, it may appear odd that the time may be inaccurate. Well, this can occur if the computer has been inactive for an extended period of time or if the user decides to manually configure the date, time, and time zone. Regardless, the browser will view the gap as a potential security issue.
Additionally, older versions of Chrome and Safari may utilise obsolete certificate databases and incorrectly report privacy issues for websites that previously had problems but are now safe to visit. As a result, it is well worth the time to check for and implement browser updates, as this may eliminate the slowdown. Likewise, macOS updates should be installed via System Preferences without hesitation if they are available. Moreover, this is how users obtain new versions of Safari, making it a crucial aspect of troubleshooting.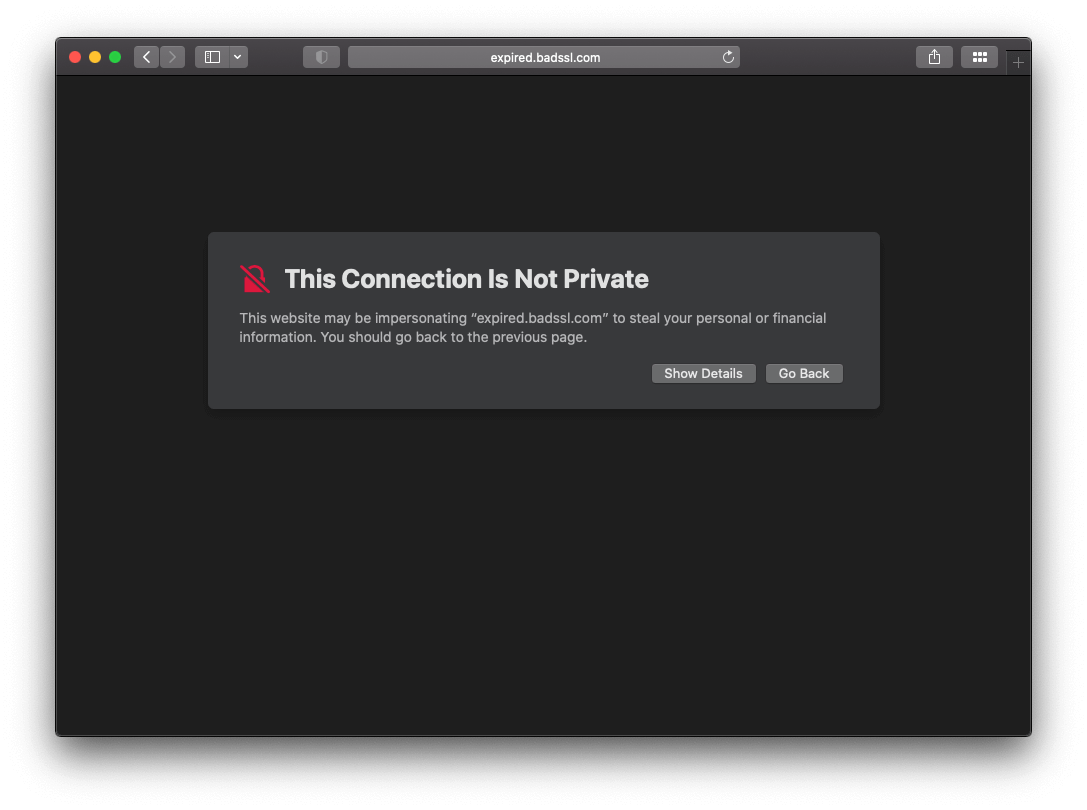 There is one more consideration to make. Adware applications that force obnoxious browser redirects are increasingly plaguing Macs. Many of these scams employ landing sites that spoof real search engines and search results. The browser will notice this variation and block the bogus connection. Some Mac virus strains induce visits to websites that provide drive-by downloads. Moreover, the creators of these malicious resources frequently fail to instal authentic digital certificates, causing Internet sessions to be accompanied by notifications. Nonetheless, it is highly recommended that you scan your Mac for malicious code; the instructions are described below. But first, let's discuss how to bypass this error if you are positive that the target website is completely safe.
Also Read: How Big Tech Stifles Our Freedom of Speech: Representative Ken Buck
Fix "Your Connection Is Not Private" Error in Chrome on Mac
To some extent, determining what produces these notifications in Google Chrome requires trial and error. However, beneath the primary warning language is an error code that may provide hints. The following are the most frequent inscriptions you may encounter:
These codes mainly denote certificate issues or a system clock inaccuracy. One way or another, here is a summary of the methods to bypass the error page or stop it from appearing henceforth as long as you trust the site:
Use advanced options on the alert page
Click the Advanced button at the bottom left of the "Your connection is not private" error page.
Select the option that says Proceed to [website URL] (unsafe). Chrome will now open the site despite the risk.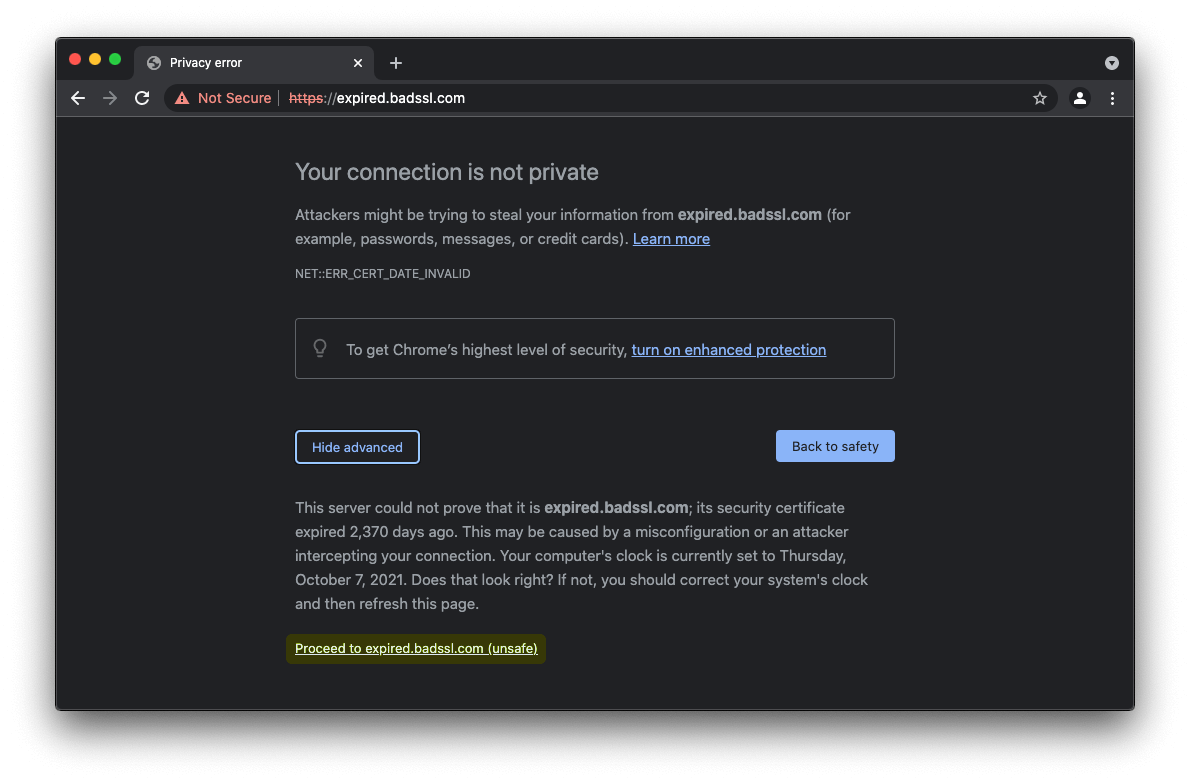 Adjust the system clock

Head to System Preferences and select Date & Time.
Click the padlock icon to be able to change settings. Check if the system clock details are accurate. If they aren't, specify the correct values.
Also, make sure the Set date and time automatically option is enabled.

Use Incognito mode

While Chrome is opened, click File in the menu bar and select New Incognito Window as illustrated below.
Try to visit the site in Incognito mode. If it loads, then one of your Chrome extensions may be meddling with the browser's security checks. Disable extensions one by one to identify the culprit.
If the intended page still won't open, use the other steps listed in this guide to bypass the alert.

Check Chrome for updates

Open the Customize and control Google Chrome menu, select Help, and click About Google Chrome.
If an update is available, apply it immediately. Note that you will need to restart the browser to complete the procedure.