The last season of Ozark is planned to premiere on April 29th, 2022, with the remaining 7 episodes of season 4 set to premiere on April 29th, 2022. Here's an updated rundown of everything you need to know about the final season of one of Netflix's most popular shows, including what to expect, the first details on the companion documentary, and more.
Ozark, one of Netflix's top shows, has been a star performer since its premiere in July 2017. Each season has become better and better, and with it, the actors' performances have been better and better. As a result, it's become one of Netflix's most enjoyable shows.
Bill Dubuque and Mark Williams created Ozark. Jason Bateman not only serves as an executive producer with Dubuque and Williams, but he also serves as the series' lead actor.
The final season is supersized, with 14 episodes split into two halves, the first of which premiered last Monday with Ozark season 4 part 1.
Chris Mundy, the showrunner, spoke with Entertainment Weekly about why the show is ending now.
Related – The Last Kingdom Season 5 Release Date Confirmed: Realtime Update on Spoilers, Plot, and Youngest Son Return
"From the beginning, Jason has talked about making sure we don't overstay our welcome," he explained. "And, because we're serialized, we needed to stay emotionally honest and not feel like we're putting them in the same circumstance over and over again." So something in the five-season range seemed appropriate. We'd be vamping if we carried on any longer after that."
Here's all we know about Ozark season 4 part 2 so far.
When will Ozark season 4 part 2 be available on Netflix?
The last season of Ozark will be released on Netflix on Friday, April 29th, 2022, according to a trailer released by Netflix on YouTube.
It'll be released alongside Grace and Frankie's seventh and final season.
Netflix published the official trailer for Ozark season 4 part 2 on March 30th, 2022.
Warning: There is a huge spoiler in the trailer for the final episodes.
Why was Ozark's last season split into two halves? It's a trend we're seeing more and more with final seasons or expanded seasons, as in the case of Stranger Things.
Chris Mundy talked to The New York Post about how the writing process was affected by the seasons being broken up.
"As writers, it's difficult because we have to think of it as a single final act while simultaneously realizing that individuals will have two different watching experiences." So there must be a satisfactory conclusion to the first half and a sense of beginning to the second — and it must all be rolling downhill toward our conclusion. We've talked about how to achieve both of those things for a long time since they don't easily coexist on paper."
Related – Young Royals Season 2 Release Date Update – See What's Coming up in 2022
Trailer for Ozark season 4 part 2
Marty wearily complains to Wendy about having "blood on my hands" and wonders if it concerns her in the full-length trailer for Ozark season 4 part 2. She merely sighs and sips from a bottle. "You're desperate to be the good guy," says the narrator.
If the past three and a half seasons have taught us anything, it's that Marty isn't a kind person.
Ruth Langmore (Julia Garner), a "cursed Langmore long inured to violence and death," is the topic of the first Ozark season 4 part 2 teaser trailer. Except maybe not soon enough in this case.
Part 2 of the Ozark season 4 cast
Jason Bateman and Laura Linney star as Marty Byrde, a former financial advisor turned money launderer, and Wendy Byrde, a former political PR manager turned realty stager and lobbyist, respectively, in Ozark.
Julia Garner, who plays Ruth Langmore, a member of a local crime family and Marty's former assistant, is the second important cast member.
They will be joined by the following individuals:
Charlotte Byrde, Marty and Wendy's daughter, is played by Sofia Hublitz.
Jonah Byrde, Marty and Wendy's son, is played by Skylar Gaertner.
Omar Navarro, the chief of a Mexican drug organization, is played by Felix Solis.
Javier "Javi" Elizondro, Navarro's nephew and cartel officer, is played by Alfonso Herrera.
FBI Special Agent Maya Miller is played by Jessica Frances Dukes.
Mel Sattem, a private detective, is played by Adam Rothenberg.
Jim Rattelsdorf, a wealthy lawyer and Byrde buddy, is played by Damian Young.
Camila, Navarro's sister and Javi's mother, is played by Veronica Falcón.
Nathan Davis, Wendy's estranged father, is played by Richard Thomas.
Sheriff Leigh Guerrero, the acting sheriff in the Ozarks, is played by CC Castillo.
Clare Shaw, CEO of Shaw Medical, is played by Katrina Lenk.
Randall Schafer, played by Bruce Davison, is a retired Republican Senator.
Frank Cosgrove, the chief of the Kansas City mafia, is played by John Bedford Lloyd.
Frank Cosgrove Jr., played by Joseph Sikora, is a mafia member.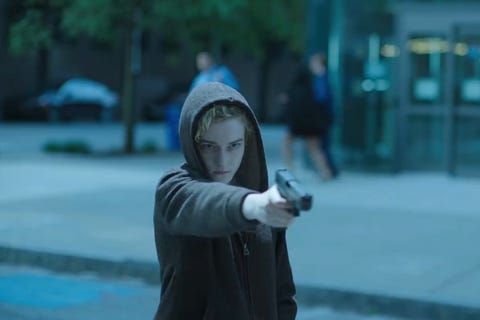 Several cast members, notably Lisa Emery as Darlene Snell and Charlie Tahan as Ruth's cousin Wyatt Langmore, will not be returning because their characters died in the early half of season 4.
What can we expect from the second half of Ozark season 4?
Ozark season 4's final seven episodes will be among the most dramatic we've ever seen.
Ruth Goes on a Raid
Ruth has snapped and is out for vengeance after discovering the bodies of Darlene and her cousin Wyatt. Ruth initially assumed it was Frank Jr. who was guilty of the murders, but after confronting him at the Byrde's house, she discovered it was Javi.
Ruth threatened Marty and Wendy, holding her gun, that the only way they could stop her from killing Javi was to kill her. If Ruth is successful in tracking down and killing Javi, the Navarro Cartel and the FBI's arrangement will be disrupted, which might have unanticipated implications for all parties involved.
Will Marty and Wendy, on the other hand, alert Javi and the FBI? Will they utilize this as an opportunity to finally break free from the Navarro cartel?
Will Mel and Maya be able to defeat the Byrdes?
Ex-cop Mel has spent the entire season working for Helen's separated husband, trying to find out where she is. In the meantime, FBI agent Maya has been controlled by Marty and the Navarro cartel.
Maya was enraged by the FBI's choice to keep the Navarro cartel working for them for the next ten years, so she rebelled and made sure that her arrest of Omar Navarro drew public attention. Maya, on the other hand, now has a bullseye firmly planted on her back.
Mel was impressed by her efforts and was able to reach Maya, and if the two work together, the Byrdes may be defeated.
Related – Heartland Season 16 Release Date Confirmed: Will There Be Season 16 of the Comedy-Drama Series?
Is it possible for the Byrdes to reunite?
Wendy and Jonah have been at odds all season, and tensions reached new heights after Wendy attempted to have Jonah jailed by undermining his money laundering for Ruth. In yet another act of defiance, Jonah offered Ruth Javi's name.
The tension between Wendy and Jonah has also produced a rift between Marty and Wendy, who are disappointed that Wendy tried to have their own son arrested to illustrate a point. There has also been friction between Jonah and Charlotte, the latter of whom is now firmly on her parents' side and eager to join the family business.
When was the final season of Ozark shot?
Between November 2020 and October 2021, the entire fourth season was shot in blocks over the course of eleven months. We're guessing that the final batch of episodes is currently being edited and that it won't be long until they're all finished.