Last week, three students who were canyoneering in Utah and got stuck in an area with no cell service were saved by the iPhone 14's Emergency SOS via Satellite feature. Emergency SOS via Satellite was released in September of last year. It lets iPhone 14 users contact satellite communications to get help in an emergency.
The kids involved talked to KUTV in Utah (via AppleInsider) about their dangerous situation. Bridger Woods, one of the students, said that the three of them had heard about a "pretty cool canyon" and chose to check it out because they had been canyoneering for about a year.
Inside the canyon, they came across an area with deep water that they hadn't expected. This could have been caused by a wet winter in Utah. Woods and another student, Jeremy Mumford, were stuck in the pool for more than an hour, but they were finally able to get out and go deeper. When they came to another pool, the water was up to their chests and they couldn't get out.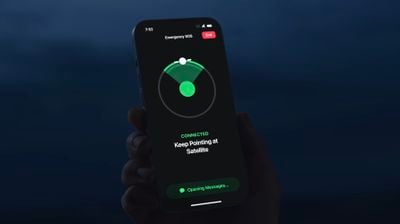 Two of the students were showing signs of hypothermia, and there was no cell phone coverage in the canyon. However, Stephen Watts, the third student, had an iPhone 14. Mumford said that every 20 minutes, a "satellite would line up" with their location. When they held their phone up, they could get a strong enough signal to text 911.
Using rope and carabiners, the three people were able to pull themselves out of the deep pool while waiting for help.
Even though Woods went into hypothermic shock, they still couldn't get out of the 10–15-foot hole they were in. Instead, they found some firewood and started a fire to keep warm while people came to help them.
A helicopter crew from Salt Lake City and paramedics from Arizona came to help, and in the end, all three kids were fine. The group told KUTV that anyone going on an adventure should bring a satellite phone in case of an accident.
Emergency SOS via Satellite has already been used in life-threatening situations, like when an Alaskan man got lost in the wilderness and when people were in a major crash in the Angeles National Forest in California.
Emergency Satellite via SOS is available to all iPhone 14 users in certain countries. It can be used when there is an emergency and neither WiFi nor cellular service is available. The tool is free to use for the next two years, but Apple hasn't said how much it will cost after that.
Read More:
Apple Is Apparently Closer to Integrating Non-Invasive Glucose Monitoring Technology to Its Watch.
There Is a New vintage Technology that Generation Z Is Obsessed With.
A Real Pixel Fold Seems to Have Been Found for The First Time.