A questionable listing reveals the first images of the forthcoming Google tablet.
The Google Pixel Tablet will be available in 2023. While the exact release date is unknown, a prototype was supposedly already being sold on Facebook Marketplace. (Why does this continue to occur with Pixel prototypes?) The item, which was discovered by Twitter user ShrimpApplePro, has the first non-marketing images of Google's forthcoming tablet, as well as the base adapter that transforms it into a smart display.
We can tell that this is a 256GB model of the tablet, and it is an uncommon sight to see it in black with a mismatched white speaker dock. Obviously, it runs Android 13 with all of the latest tablet enhancements.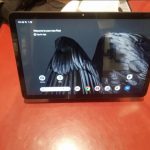 The Pixel Tablet was revealed alongside the Pixel 7 in October, but its price and release date remain unknown. The hardware is supposed to resemble a Nest Hub, Google's range of smart displays, and Android 13 may launch a "hub mode" when docked, which appears to be a feature designed just for this product. If the Pixel Tablet transforms into a 10-foot "docked" interface, potentially like the Nest Hub software, we have yet to see it. Every image of the gadget displays the standard Android tablet interface.
Also Read: Samsung Doesnt Want to Cut Corners on Its Smartphones in 2023
As far as we are aware, it will utilise the same Google Tensor G2 SoC as the Pixel 7 and future Pixel 7a. Google stated that the tablet's body is made of metal with a "porcelain-inspired nano ceramic covering." Supposedly, this will impart a "soft, matte, and textured" feel to the tablet. A set of pogo pins and magnets on the back of the tablet link it to the dock, which both charges and connects it to a larger speaker.