Recent news says that Snapchat has just started using its own AI robot, which has been met with mixed reviews. But some people don't like how big it is on the social media app. The Snapchat AI Bot is run by OpenAI's GPT, which uses the same technology as Microsoft's Bing search engine.
Snapchat AI Bot Is Pinned To Top Of Chat Feeds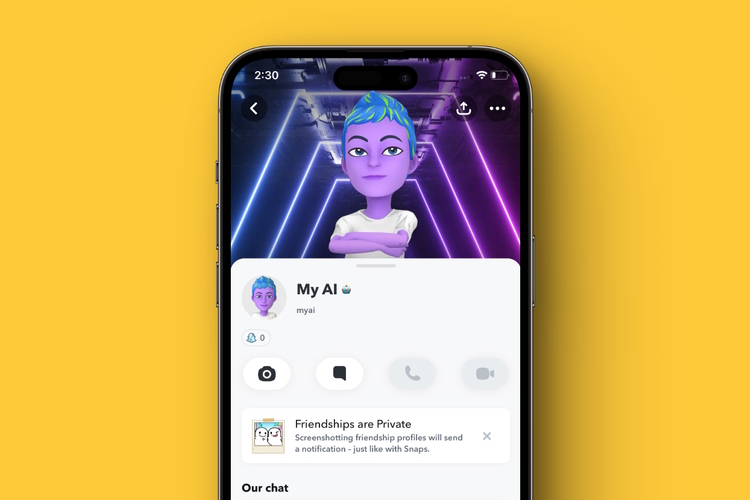 The My AI Feature has been added to the social media site. The feature is stuck to the top of the chat feeds of all users, and only paid customers can get rid of it. It's important to note that this has been criticized online. People aren't sure how the app will use information about where you are.
Snapchat says that My AI is "an experimental, friendly, chatbot" that can do things like answer questions, give tips, and plan trips.
It is acknowledged that the tool may not always be right, just like all the other bots. Its answers "may contain information that is biased, wrong, harmful, or deceptive, just like the other ones. Millions of people all over the world can now use my AI. Among them, it was first shown to people who paid for the service.
The important thing here is that Snapchat+ users can use tools like pinning and unpinning, as well as My AI, to make the app more their own. Some angry users in the US "review bombed" the app, which led to a bunch of one-star reviews of Snapchat on Apple's App Store. But the reviews in the UK have been more balanced.
A few people have said that they can't get to the function. On the other hand, it has gotten a lot of attention, and people in the UK are increasingly asking it to rank football players or name the best player in the Premier League. But no one knows for sure if the robot can see private information or not.
Read More:
Apple Is Apparently Closer to Integrating Non-Invasive Glucose Monitoring Technology to Its Watch.
Review of the MG Comet EV: An Electric Car that Doesn Leave Any Room for FOMO
A Study of The 55-Inch Aiwa Magnifiq Smart TV Shows that It Does a Good Job.