When AMD's first Ryzen 7000 processors came out last September, the chips themselves looked great on paper—the flagship Ryzen 9 7950X and Ryzen 5 7600X both kicked all kinds of butt—but bad in a budget spreadsheet. With no options for motherboards under $250, the $300 Ryzen 5 7600X just wasn't a good deal.
AMD promised that AM5 motherboards would cost $125 at CES 2023. Since then, boards under $150 have been showing up every once in a while.
But in general, AM5 boards cost more than AM4 boards did when they first came out. That is starting to change (for real this time), as the first A620 chipset motherboards quietly started showing up on store shelves last week.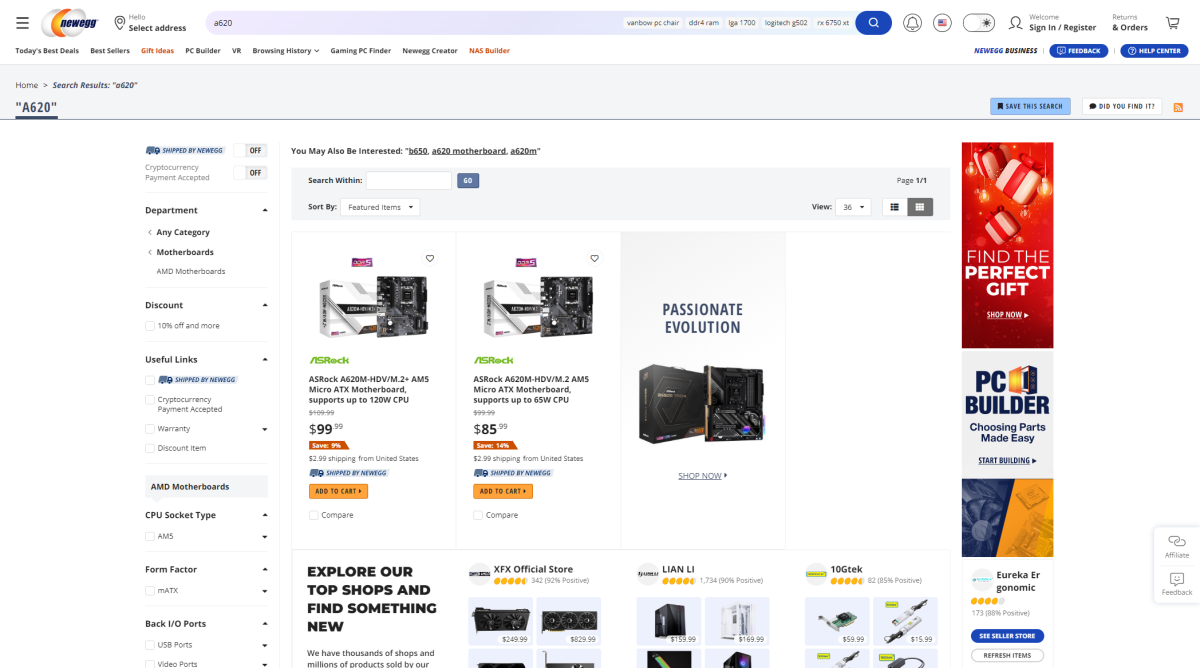 This weekend, I found out by accident that you can already choose between two ASRock micro-ATX models on Newegg. The ASRock A620M-HDV/M.2 costs $85 and works with processors up to 65W, like the Ryzen 5 7600, Ryzen 7 7700, and Ryzen 9 7900.
The ASRock A620M-HDV/M.2+ costs $100 and works with processors up to 120W. (i.e., Ryzen 5 7600X, Ryzen 7 7700X, Ryzen 7 7800X3D, Ryzen 9 7900X3D, and Ryzen 9 7950X3D). But soon, other board makers will join in. Last Friday, Asus sent out a press release announcing the TUF A620M Gaming Plus Wi-Fi and the Prime A620M Plus.
Some things about these boards seem to be the same, like the fact that they only have one x16 PCIe 4.0 slot and a small number of SATA ports.
Compared to B650, the first entry-level AM5 motherboard chipset, A620 doesn't seem to have onboard PCIe lanes for M.2 slots, but it still supports DDR5 memory like other AM5 boards. The number of USB ports and RAM slots on these first A620 motherboards is different.
Now that the price of DDR5 RAM is going down, it may be easier to build a mid-range PC with Ryzen 7000. Still, keep an eye out for bundle deals. We saw a few beautiful combinations in early March.
This way, you can get a better motherboard, and sometimes it's nice to have all the bells and whistles. If you read our reviews of motherboards, you'll see why.
Read More:
Apple Is Apparently Closer to Integrating Non-Invasive Glucose Monitoring Technology to Its Watch.
Google, Microsoft and 15 other technology companies headed by Indian-origin executives
Did Google Train Bard Use Chatgpt Data? Here's What Google Answered