Many customers have questioned how much of an effect the always-on display, which debuted in the iPhone 14 Pro and iPhone 14 Pro Max, has on battery life. A recent video closely examines the battery drain caused by the always-on display and investigates whether removing the wallpaper affects it.
Since iOS 16.2 was launched last month, users have had the option to enable or deactivate the wallpaper and notifications while the Lock Screen is dimmed. Prior to iOS 16.2, users were unable to modify many parts of the always-on display.
The always-on display turns black when the wallpaper is disabled, save for the clock, date, any widgets you've added to your iOS lock screen, and recent notifications, if they're enabled. The influence of enabling or disabling the wallpaper on overall iPhone battery life was examined by YouTuber PhoneBuff.
According to the test, an iPhone 14 Pro will drain about 0.8% per hour when the wallpaper is enabled for the always-on display as opposed to 0.6% per hour when the wallpaper is removed.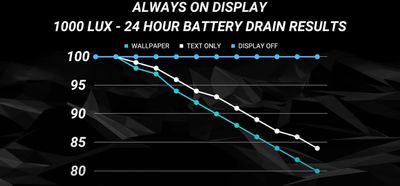 PhoneBuff also contrasted the Samsung Galaxy S22 Ultra's always-on display technology with that of the iPhone 14 Pro in the video. In that comparison, it was discovered that the Galaxy S22 Ultra would periodically reposition the clock on its always-on display. Presumably this was done to prevent OLED burn-in caused by displaying a static image for extended periods of time.
On the iPhone, nothing like this happens because the time and all other information remain the same. After 24 hours of the always-on display, the iPhone 14 Pro and Galaxy S22 Ultra's batteries reached 84% of their initial capacity.
Related Articles:
Apple Watch Series 8 to Apple Watch Pro: New Technology Is Expected to Have Improved Design, Health Features, and More!
Why are LG Display Latest OLED Screens So Much Brighter?
New Apple Updates Could Prevent Air Tag Stalking
A Smaller Smartphone Camera Module with True Optical Zoom Is Teased by LG